Medical Treatment for Work Injuries in Hialeah
​​​Steps to Take Immediately Following Your Injury
You should have two main focuses after you suffer an injury at work. One of those focuses will be on reporting the injury. If management or a lead is available, let them know at once that you have been injured. Make sure that they take the correct steps to report the injury to the insurance company. Your employer has 30 days (in most cases) to report the injury to the Workers' Compensation insurance company.
Your first and foremost priority, however, should be on getting the medical care and attention you need. Even if you think your injury is minor enough to not require medical attention, it is essential that you obtain documentation of your injuries for the claims process. This is also a crucial step for your overall well-being since your injury may not seem as substantial at first as it really is.
What Should I Expect from a Workers' Comp Doctor?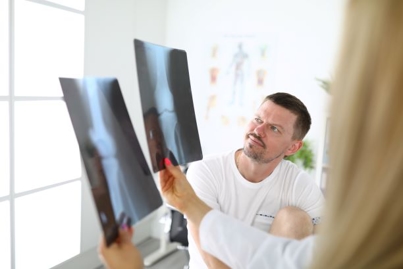 Your treating doctor will want to know the details related to your accident. Though it may be tempting to leave information out, such as details about a pre-existing condition, it is important that your doctor is given all available information for an accurate evaluation and diagnosis. Leaving out or fabricating information will only harm your long-term treatment.
The physician will be useful to your workers' compensation claim in a number of ways beyond the important role of diagnosing and treating your injuries. If need be, they will refer you to a specialist if your injuries require. They will also decide what work restrictions to put in place for your maximum healing. Once your condition is stable, the doctor will then ascertain whether you have any permanent limitations relating to the accident.
Seek Compensation for Your Workers Comp Injuries
After a work-related injury, what factors come into play in regard to your medical treatment? Medical reimbursements are the primary benefits that apply under Florida's workers' compensation system. Your employer has an obligation to pay for your medical care, typically through an insurance carrier. Any and all treatments, medications, and medical supplies related to your care should be provided for, but it can be difficult to know what is covered and who will provide your care.
Our workers' compensation attorneys at Morales & Cerino have been fighting for Florida's injured since 1994. We know exactly how medical care is addressed in the workers' compensation system and can help you understand your rights and responsibilities in this important matter.
To learn more, call (305) 340-2630 for a free review of your case. We serve all of South Florida from our offices in Miami and Plantation.
What Is an Authorized Treating Physician?
If you have suffered a work injury and are seeking treatment, you have probably heard of an "authorized treating physician." This is a doctor whom your employer or their insurance carrier will assign to manage your treatment. Medical benefits will only be provided for authorized treatment. Your authorized treating physician may refer you to a specialist if needed, but that specialist must also be approved by your employer or their insurance carrier. In Florida, you have the right to change doctors, once, if you are dissatisfied with the authorized treating physician your employer selected for you.
Workers' Compensation & Medical Benefits: Helpful Tips from Our Attorneys
In seeking medical treatment after a work accident or on-the-job injury, we can offer the following tips:
Report any injury or accident to your employer as quickly as possible.
If you require emergency care and cannot check with your employer first to find an approved provider, be sure to keep detailed records so this can be paid for.
Follow your authorized treating physician's orders, and do not miss appointments. Keeping up with your treatment will help ensure that you continue to receive benefits.
Remember, you have the right to change authorized treating physicians if you are unhappy.
If you have any questions or problems related to your doctor's treatment after a work-related injury, do not hesitate to contact a workers' compensation attorney in Miami at Morales & Cerino for assistance with your workers' compensation claim. We are here to alleviate the stress and confusion, to help you get your life back on track.
Call our Hialeah offices today at (305) 340-2630 for your free consultation. Se habla español.