Work-Related Back Injury Cases in Hialeah
Suffering from a Back Injury at Work?
You suffer a back injury at work, and you aren't sure what your next move should be. The recovery process from a back injury can be a long and strenuous one. While you focus on recuperating, our attorneys can work to make sure you get the medical treatment and financial compensation you deserve for your workplace injury. At the law office of Morales & Cerino, we offer personalized service and legal assistance to injured employees throughout South Florida.
We have focused on this for many years, and because of this, we have discovered a lot of information regarding medical diagnosis and therapy of various back injuries, such as:
Lower back injuries
Spine injury/paralysis
Cervical (neck) injuries
Herniated discs
Fractured vertebrae
Nerve impingements
Your back is supported by your vertebrae, which is prone to becoming fractured or dislodged when your body has been jolted. The soft disks between your vertebrae can also slip causing a herniated disk. This pinched nerve is very painful and debilitating. If you have been in a serious accident and have had to endure any type of jury to your back, a skilled attorney can be of assistance.
---
Find out more about our firm and how we can help you by calling (305) 340-2630 or contacting here.
---

Workers' Compensation for Back Injuries
Workers' compensation benefits for back injuries at work differ from those of other injuries. It is necessary to comprehend just how the law runs to prevent losing your financial advantage later on. Basically, back injuries don't lead to legal negotiations, unless you are incapable to work for a long period of time.
When you work with an attorney at Morales & Cerino, we will always keep you informed concerning the progression of your case and clarify your choices in clear terms, like whether to accept a settlement or how to appeal a denied claim. We always work with your bests interests in mind.
With every case handle, there's an individual, like you, relying on us for help. Knowing this is what makes us always put your needs above all else. Our clients tell us that it shows in the way we interact with them, providing understanding, concern, and most importantly, that we truly care.
Rehabilitation for Back Injuries
A serious back injury is rarely fully treated through just one visit to the hospital and painkiller medications. Oftentimes, surgery is needed to correct discs that have been herniated, damaged, or shifted out of place. Afterward, your medical provider may instruct you to undergo weeks, months, or even years of routine rehabilitative therapy designed to restore your mobility and lessen the chronic pain you feel each day.
Each session of therapy will come with a price tag. As the sessions continue week after week, the total cost for those rehabilitative therapies will accrue, possibly beyond what your insurance is willing to cover. If you are seeking compensation through a third-party lawsuit, then it is important that your damages are calculated to account for these future costs. Our attorneys are well-versed with high-stakes injury claims that require intensive damage calculations, so you can trust in us to manage your claim, too.
Personal Injury Claims for Back Injuries at Work
Personal injury refers to physical injuries and financial losses resulting from another party's careless or intentional wrongdoing. This may apply in a work-related back injury that was caused by a third party – someone other than your employer or a co-worker.
If you have a back injury, in order to get compensation from a negligent party (and their insurance company), you must be able to prove three things:
The extent of your damages
How the injury happened
How the other party is liable
The burden of proof is on you, and this is never an easy feat. This is the reason why most individuals contact a back injury lawyer to manage their case, whether it is their claim or court case. If you are considering a personal injury lawsuit, ask our experienced legal professionals.
You Deserve to Work with an Experienced Lawyer
When you have suffered a back injury, you need an accomplished attorney who has been recognized for superiority in and outside the courtroom. At Morales & Cerino, we take pride in our stellar reputation because it shows the dedication we bring to each case we undertake. If you or a loved one suffered a back injury at work, reach out to us today.
Fierce advocates and solid legal professionals, our attorneys have actually won the acknowledgment and respect of the Hialeah legal community and residents alike. Our credibility and method are based on honesty, tenacity, empathy, and exceptional legal competence.
---
To learn more about workers' compensation benefits and personal injury lawsuits for work-related back injuries, call (305) 340-2630 or contact us online. Se habla español.
---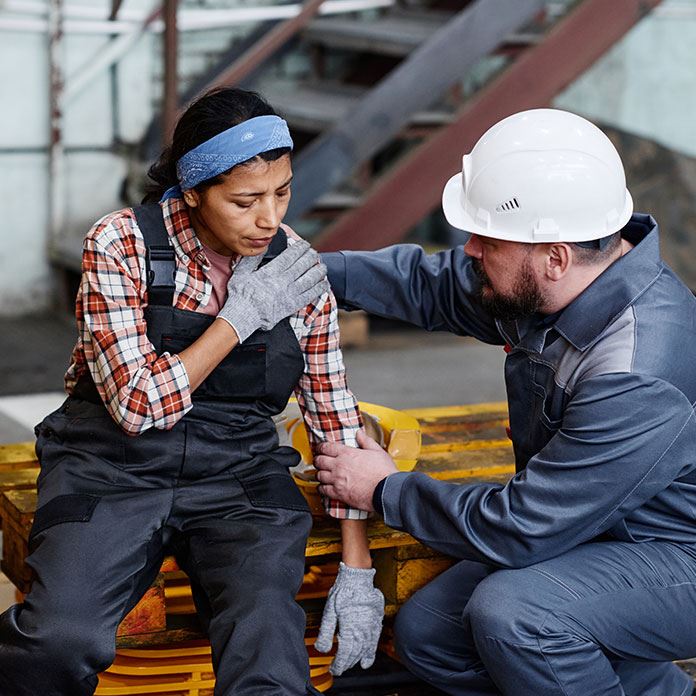 REQUEST YOUR FREE CASE EVALUATION