Hialeah Workplace Injury Lawyer
Morales & Cerino, P.A. can help if you sustained injuries at work in South Florida
Any worker in any industry, from a typist who spends most of the day staring at a computer screen to a construction worker who operates an industrial crane, may experience a work-related injury. A slip and fall accident, equipment malfunction, lifting injuries at work, fire, or even the repetitive motion of one's job duties can cause serious injuries that require medical treatment. These injuries may interfere with one's ability to work or may leave a worker permanently disabled and unable to work at all.
---
Sustaining injuries at work? Contact our Hialeah Work Injury attorneys for a free consultation!
---
If you were injured at work or have been diagnosed with a medical condition caused by your work environment or job duties, do not wait to talk to a Hialeah workplace injury attorney at Morales & Cerino. You will need to report your injury to your employer as soon as possible, but you may find that your claim is delayed, that you are unhappy with the doctor you are sent to, or that your claim is denied outright. A lawyer who is experienced with workers' compensation and personal injury cases for work-related injuries can protect your right to full benefits.
---
Discuss your right to compensation with a knowledgeable and caring workers compensation lawyer. Call (305) 340-2630 or contact us online today!
---

Is it worth hiring a workers' compensation attorney?
In many cases, your work injury case is not as simple as it may seem. There are often snares that arise in a case and involving an attorney early on is your best chance of getting the outcome you need and deserve.
Having a legal team at your side with connections within the field of workers' compensation is very valuable. Hiring a lawyer is not always mandatory in these situations, but it can be in your best interest.
A lawyer can help with the following:
Find a physician
Handle the claims process
Negotiate a settlement
Go to trial on your behalf
Pursue the most compensation
Regardless of how minor or complex your work injury case is, we can discuss the situation and assess how we can best help you!
Types of Work Injury Cases We Handle
Fires and explosions
Amputation/loss of limb
Electrocution and electrical injuries
No matter the cause of your work injury, you may be entitled to benefits regardless of fault. Even if it was your mistake that caused your injuries, you may still be eligible for workers' compensation benefits. And if a third party, someone other than a co-worker or your employer, was responsible, you may be able to file a personal injury lawsuit and pursue benefits not only for medical care and lost earnings but also for emotional distress.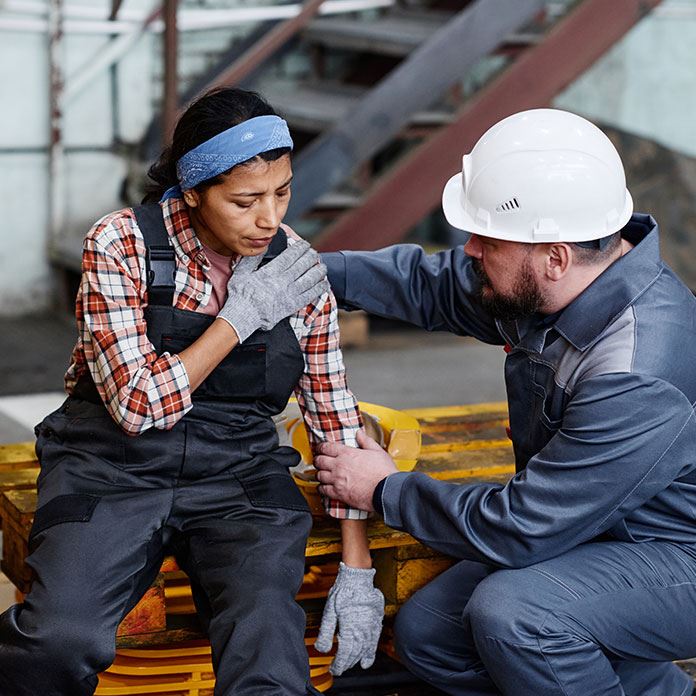 REQUEST YOUR FREE CASE EVALUATION