Hialeah Workplace Slip & Fall Accident Attorneys
Pursue Just Compensation with Our South Florida Attorney
The truth of the matter is, injuries from slipping and falling at work is quite common. Individuals who have suffered harm in these accidents are too often left with insufficient medical care and do not receive the full benefits or compensation to which they are rightfully entitled.
Sometimes, injured employees are left in the dark about exactly what actions to take to safeguard their rights and obtain the benefits they need.
What Happens if You Fall at Work?
It is imperative that you take proper action after suffering from a slip and fall at work. The first thing you will want to do is get medical attention as soon as possible. Once you ensure your own safety, notify your employer. You should include specific details about the cause of the fall and the injuries you suffered.
Managing a personal injury lawsuit or workers' compensation claim can be daunting and complex, leaving the employee feeling distressed and hopeless. At a time when they should be focusing on recuperating, they are stressed due to concerns over pain, suffering, and lost earnings. This should not be the case.
Can You Sue for Slipping and Falling at Work?
If you have been the victim of a workplace slip and fall accident, the knowledgeable Hialeah slip and fall attorneys at Morales & Cerinoare here to help. From your initial consultation, you can get the information you need to make the right choices about your case. And if you work with our firm, our team will safeguard your rights and get you the prompt medical treatment and financial benefits you are qualified to receive as an injured worker in Florida. We know how to navigate the legal system to pursue the results you are seeking.
---
For a free review of your claim by a seasoned Miami slip and fall attorney, call (305) 340-2630 or contact us online. Se habla español.
---

Back Injuries From Slipping and Falling at Work
Among the injuries that can result from a slip and fall, a serious back injury is one of the most common. The sudden trauma of a slip and fall can even be powerful enough to result in permanent damage to the site of the energy.
This can include permanent loss of strength and function below the injured spot. Other serious injuries that can result from a slip and fall include:
Soft tissue injuries (including muscles, tendons, ligaments, and nerves within the body)
Tailbone injuries (bruises, fractures, or dislocation)
Discogenic pain (Impact on the spinal disk between the vertebrae)
Workers' Compensation Claims for Slip & Fall Accidents at Work
After a serious fall or other workplace accident, life is suddenly filled with unpredictability and hardship. A painful slip and fall injury is usually followed by a loss of income. Personal expenses and bills start piling up, and there's no money coming in to take care of these costs.
In the state of Pennsylvania, workers' compensation claims, or "compromise and release agreements" can be pursued after a workplace slip and fall incident that results in injury. Workers' compensation in South Florida provides coverage to assist injured employees to get back on their feet and return to work.
Unfortunately, insurance companies can deny claims for all kinds of reasons, making a stressful situation even worse.
How Long Do Slip and Fall Cases Take to Settle in Florida?
Many slip and fall cases settle prior to trial, but some still inevitably end up in court. That means that it can take anywhere from several months to a few years for your case to settle, depending on the specifics of your case.
By following the steps below, you can likely decrease the amount of time your case takes
Can I Sue for Falling at Work?
In some cases, it is in your best interest to sue for liability after a slip and fall accident. In order to sue, however, you will need to be able to prove that conditions existed that resulted in the slip and fall. This is likely not going to be a simple process, however. You will need to show that your employer either ignored or did not take proper action to correct the issue.
If you were injured in a slip and fall accident at work, we can help by:
Making sure your accident/injury is properly reported to your employer;
Ensuring all paperwork and workers' comp forms are properly filled out;
Filing an appeal, if your workers' comp claim was denied for any reason; and/or
Considering alternative sources of compensation, such as a personal injury lawsuit against a third party, if someone other than your employer or a co-worker was responsible.
You will typically be offered a "lump sum settlement" for your damages, but it is important to understand what is involved. With a lump sum agreement, you will be unable to go back and ask for more money in the future. In addition, the insurance company will attempt to offer much less than you rightly deserve. That is why it is essential to work with an attorney during this process for guidance toward the best possible outcome.
What Should I Do After A Slip and Fall at Work?
Being injured in a slip and fall accident is not a situation that you have experienced in your past or likely have ever even considered. The steps you take after a slip and fall, however, should be carefully evaluated as they will impact the end result of your case.
First, seek medical attention. This is critical for your own wellbeing as well as for your case.
Then, you should work with your attorney who can inspect the scene of the accident. This step will be the start of building your claim. Part of the investigation of the scene will include photographs.
If there are any witnesses involved, they should be identified and spoken to by your attorney.
During the entirety of your case, make sure you are documenting everything that is said, your injuries, and any other statements relevant to your case. Very importantly, ensure that you are working with a knowledgeable attorney.
How To Get Compensation in Your Workplace Slip & Fall Case
If you need to go beyond workers' compensation to get just compensation for your slip and fall at work, you will need to prove negligence of the other party. In order to sue your employer, you will need to prove that you were injured by "gross negligence." This means that your employer did something egregious that led to your fall.
If the accident involved a third-party, you may have grounds to file a lawsuit for compensation in addition to your workers' compensation. In this situation, you could demand compensation for your medical bills and out-of-pocket expenses, in addition to pain and suffering damages. A legitimate injury claim would require proof that the other party's negligence led to the injury.
Experienced Team for Your Workplace Slip & Fall Injury Claim
Our work injury lawyers at Morales & Cerino have over a century of combined legal experience. We know how to recover workers' compensation benefits or personal injury compensation for our clients in a timely manner. We are extremely aware of the stress you are dealing with after experiencing an injury at the workplace. Our lawyers also understand the feelings of worry and concern that can usually consume individuals who are in the midst of a workers' compensation case.
If you are ready to take control of you case and quit letting the employer and insurance company determine what is good for you, contact our firm immediately. Some of us have been through the same predicament as you have, and we have dealt with many cases similar to your own.
---
Call our Miami workplace slip and fall accidnet attorneys at (305) 340-2630 today for a comprehensive consultation!
---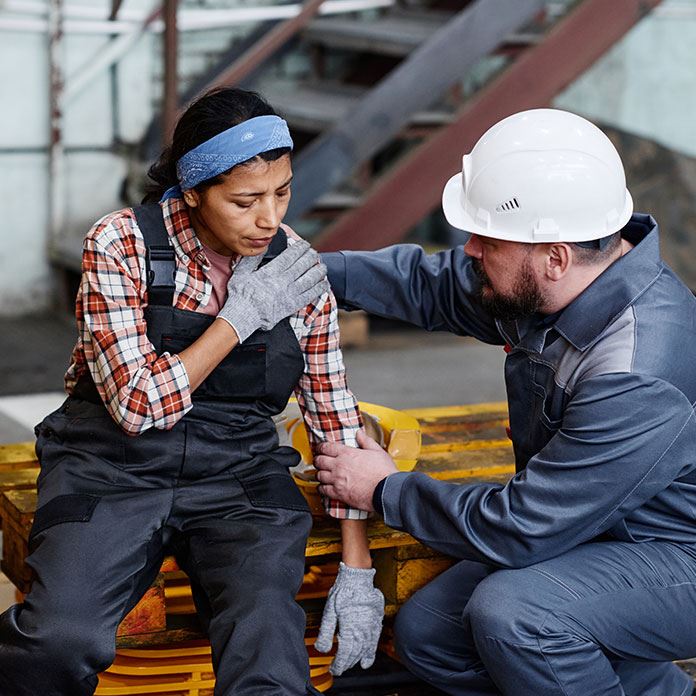 REQUEST YOUR FREE CASE EVALUATION