Construction Accident Attorneys in Hialeah
Representing South Florida Construction Workers Since 1994
Every carpenter, electrician, plumber, and pipefitter understand that the construction industry is one of the most dangerous out there. Studies show that it accounts for the highest proportion of work environment injuries and health problems throughout the country. Building and construction site accidents take place every day, and as a workers' compensation law firm that's been assisting injured individuals for over 20 years, we at Morales & Cerino know that construction worker accidents are dangerous and numerous.
Some of the types of construction accidents include:
Broken bones from falling between beams
Toxic chemical exposure
Forklift, bulldozer, and crane accidents
Excavators and loader backhoes that overturn
Extreme head injuries from falling objects
Back and neck injury from building collapse
Malfunctioning electrical power device injuries
Hoisted loads that break free and fall
Faulty rigging, cables, or ropes
Crush injuries and suffocation from trench collapses
Our Hialeah construction accident attorneys understand the tragic influences accidents of this kind can carry in your life. We also understand Florida scaffolding law and workers' compensation guidelines in and out, and that workers' compensation insurance companies will certainly try to minimize construction site injuries. We level the playing field, helping injured workers recover the compensation to which they are rightfully entitled.
---
To discuss your claim and legal rights, call (305) 340-2630 or contact us online. Se habla español.
---

Types of Construction Worker Injuries & Their Causes
Construction worker accidents can lead to any type of number of life-altering injuries, including:
Paralysis
Coma
Spinal cord injury
Shoulder/neck injury
Traumatic head injury
Broken bones
Amputation/loss of limb
Hearing loss
Electrocution/electrical injury
Respiratory problems
Dangerous safety violations and an absence of safety gear on construction sites can contribute to these serious injuries.
Companies should provide every type of safety equipment needed to safeguard employees, including: hard hats, goggles, eye defense, earplugs, earphones, steel-toed boots, and energy-protected gloves. With absence of basic safety equipment, along with poor safety training at numerous constructing sites, we are never stunned at the building and construction site mishaps we see.
Injuries from a Building Collapse
Building collapses are often preventable construction accidents considering all of the regulations set in place. If a building is not "up to code" when construction is taking place, building failures can occur. If human error or negligence is the cause of the building collapse, it is highly advisable that you work with a knowledgeable attorney who can guide you through each step of your building collapse case.
Serving Injured Construction Workers in Hialeah & Beyond
Our personal injury and workers' compensation firm goes the extra mile in assisting clients in recovering their money and benefits. We understand what needs to be done so our clients get the full benefits they are supposed to receive.
Some of the Hialeah construction accident cases we handle include:
Trench cave in
Roof or floor collapse
Crane accidents
Falling debris
Trip and fall accidents
Scaffolding accidents
Ladder accidents
Electrical injuries
Heavy equipment malfunction
Exposure to hazardous substances
When it comes to construction accidents, worker's compensation cases are difficult because the business/employer, or even the subcontractor, does not always carry the necessary insurance. If this is the case, and a worker is injured, the individual can't receive workers' compensation benefits from the employer or the subcontractor. If this sounds like your case, don't be discouraged. This is where our Hialeah construction injury lawyers at Morales & Cerino can be of assistance.
If you were injured at a construction site, our attorneys may be able to help you recover damages. We chose to represent those who were injured in construction accidents because we believe that solid legal assistance is the answer to ensuring that you can get your life back. This is why we work closely with our clients, using our years of service to our South Florida community with an understanding approach that deliver results, all while treating you like family.
---
To get started, give us a call at (305) 340-2630. Your consultation is free and confidential.
---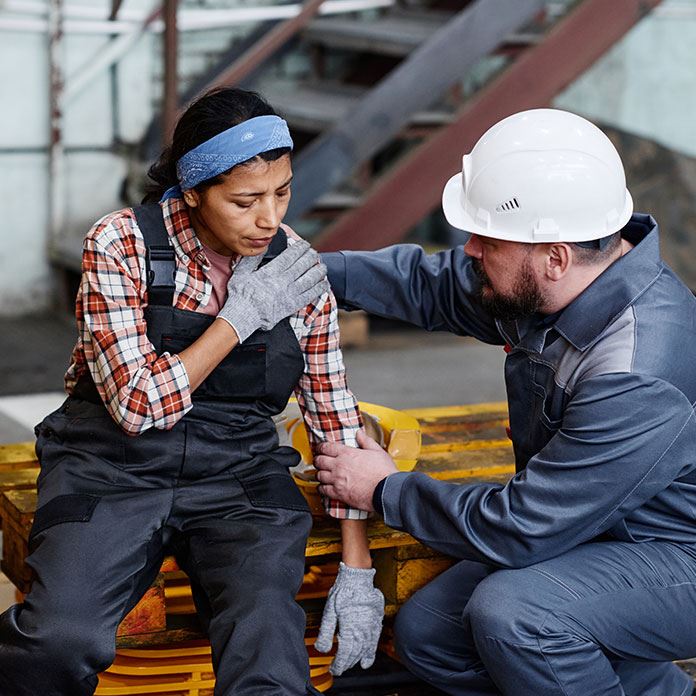 REQUEST YOUR FREE CASE EVALUATION