Personal injury lawsuits can take months or even years to reach a conclusion. Workers' compensation is designed to give injured workers faster access to compensation for lost wages and medical bills to avoid the drawn-out process of a lawsuit.
Under workers' compensation, workers who suffer a work-related injury or illness are entitled to benefits regardless of fault, even if the employer, employee, or coworker is responsible for the injury, although there are some limits. In exchange, an injured worker can't sue their employer for damages.
Who Is Covered by Workers' Compensation?
Every state, including Florida, has a workers' compensation coverage and all mandate workers' comp insurance for most employers with the exception of Texas. Most employers are required to carry workers' compensation coverage which means most employees are covered. Not all employers must have coverage, however, and not all types of workers have to be covered. Workers' compensation typically does not cover independent contractors, for example, or volunteers.
In Florida, employers who have 4 or more employees, even part-time, must provide workers' comp coverage. Workers' comp is required for employers in the construction industry with even one employee. Florida farmers who have 5 or more employees or 12 or more additional seasonal workers are required to have coverage.
Even when employers are required to have workers' compensation insurance, some fail to do so. If your employer does not have workers' comp coverage, you may be able to sue your employer for your injury.
What Injuries Are Covered by Workers' Compensation?
Workers' compensation covers most work-related injuries and illnesses but there are some exceptions. Injuries that occur because the worker was using illegal drugs or intoxicated will not be covered. Workers' compensation also does not cover any situation involving injuries sustained while the employee was committing a crime, self-inflicted injuries, injuries sustained while the employee was violating company conduct codes, or injuries suffered while the employee was not on the job.
Injuries don't need to be covered by an accident like a fall. In fact, the most common workers' compensation injuries are those that result from chronic misuse or overuse like chronic back issues or repetitive stress injuries. Benefits are also available for work-related disease and illness that is the gradual result of the workplace environment like lung disease.
Understanding Workers' Compensation Benefits
Hialeah workers compensation provides several types of benefits:
Medical Benefits
Workers' compensation covers necessary medical care for your work-related injuries or illness, including physician appointments, hospital expenses, prescriptions, and medically necessary equipment.
Disability
Workers' comp coverage pays for disability to recover a portion of lost wages while you recover. The number of benefits will depend on the type of disability:
Permanent total disability

Permanent partial disability

Temporary total disability

Temporary partial disability
The amount you receive for disability depends on your earnings before the injury. As a general rule, disability benefits are capped at two-thirds of your wages but there will be a waiting period before you receive disability.
Rehabilitation
Workers' compensation will cover rehabilitation services like physical therapy while you recover from your injury. It may also cover rehabilitation necessary to regain abilities or skills required for your job or tuition, retraining, and other costs to train you for a new position.
Death Benefit
Family members of workers who are killed on the job can receive a death benefit. This benefit can pay for final expenses and it can be paid to a spouse, child, parent, or sibling.
When You Need a Workers' Compensation Lawyer
While the concept of workers' compensation is good, the system can be unfair to injured or sick workers. The workers' compensation system is notoriously complex with specific rules and deadlines to meet. While Hialeah workers compensation attorneys may not be needed in a straightforward case in which you miss little work, suffer a minor injury, and your employer acknowledges the injury happened on the job, it's always important to hire an experienced attorney if your employer's settlement won't cover all of your medical costs and lost wages, you have significant or ongoing medical issues, your employer denies your claim, or you encounter other complications.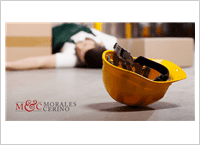 At Morales & Cerino, we represent injured workers who are facing a denied claim, need help navigating the complex legal landscape of a workers' compensation claim, or have a third party claim against someone other than their employer. Contact the Hialeah workers compensation attorneys at Morales & Cerino today to schedule a free consultation.
Get connected with an experienced Hialeah workers' compensation attorney today. Call (305) 340-2630 to schedule your free case evaluation.